Pleasure Flying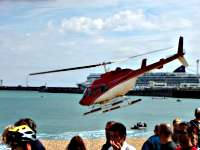 Sky Charter UK Limited is the largest provider of public pleasure flights at venues across the UK.
If you are the organiser or on the committee at any event, have you ever thought of another line of income? A real crowd puller! With no cost to yourself! Ask our Operations team how on 08455 191561.
Our diary is very extensive and ranges from small local events to large prestigious events, listed are just some of the events we attend:-
Game Fairs: Shugborough, East Anglian, Selby, Birmingham, Lincolnshire, Pickering, Edingburgh, Tabley House, York, Rockingham Castle.
Air Shows: Margate sea front, Eastbourne Airborne, Yeovilton, Lydd.
Steam Fairs and Rallies: Nottingham, Bronte Vintage gathering, Stoke Goldington, Chipping Steam, Selling Steam, Carrington Steam, Dacoram Steam, Holcott, Orset, Malpas Yesteryears.
Country Shows: The Eye Show Astle Park Belvour Castle
Town Events: Dover Regatta, Deal Carnival, Spalding Flower Parade, Balloons and Ferraris.
We also attend schools around the UK to offer the children, parents and staff the unique opportunity of helicopter flight along with an in depth lecture on the principals of flight.
Our friendly Operations team can come and meet with you at your convenience to discuss any further information you may require so please give us a call now on 08455 191561.
---
Call us now on our quote line open 24 hours a day on 08455 191561 or email